TALIBAM!
Matt Mottel and Kevin Shea are the co-improviser in residence at the Moers Music Festival for 2021. After playing together for 18 years in TALIBAM!, they are living (for the first time ever, together) in a prac space haus in Moers Germany for all of 2021.
In the first months of this year, living in COVID Lockdown, they invited artists from Germany to their living room which was transformed into a recording studio .
They have made recordings and online broadcasts with more than 30 artists.
They premiered a new project 'DAS QUEUE' at the the Moers Music Festival in May 2021, which featured members of legendary Krautrock band 'Embryo' with Marja Burchard and Maasl Maier, with Keisuke Matsuno and Ron Stabinsky.
They also performed as FAUST & TALIBAM! with founding member Jean Herve Peron with Amaury Cambuzat.
at the Platzhirsch festival in Duisburg; August 13th.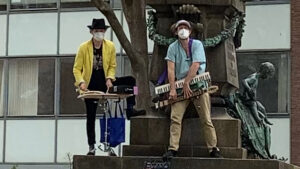 MOPCUT (USA/FRA/AUT)
MOPCUT is a medium-length noise-style that covers the head and ears with a vertical bang and a horizontal wave. It's a popular style for all ages, genders and generations.The soundscape should be trimmed evenly all around the circumference so that the noise at the front reaches the inner eye while the waves on the sides cover (or almost fully cover) the ears. The beats at the back maintain the same length as the samples at the front and sides. Once the overall sound is achieved, trimming is used to achieve minimalism or maximalism, depending. Improvisation, noise and electronic beats work well as backgrounds for the MOPCUT. Electronic appliances and devices may be used to give the MOPCUT a bit more volume, but effects may lead to standing up instead of hanging low.
MOPCUT is Lukas König, Audrey Chen, and Julien Desprez
Their objective is a construct of noise and sounds that completely envelopes the listeners and has an equally as intensive impact on the ears as on the inner eye – that's how Audrey Chen, Julien Desprez, and Lukas König describe their trio project MOPCUT, which celebrated its premiere at donaufestival Krems (AUT) in 2018. Their improvisation abilities transcend all genre borders. Lukas König utilises his drums, synthesizer, and voice; Julien Desprez plays electric guitar; and Audrey Chen overlays the sounds from her analogue synthesizers with ecstatic extemporised vocals.